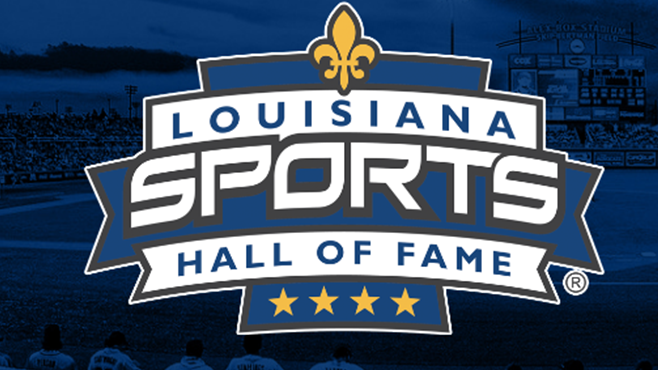 NATCHITOCHES – Acclaimed north Louisiana writer Teddy Allen and influential central Louisiana reporter, editor and publisher Garland Forman Jr. have been selected for the 2022 Distinguished Service Award in Sports Journalism from the Louisiana Sports Writers Association.
The duo will be inducted in the Louisiana Sports Hall of Fame next June, LSWA president Raymond Partsch III and Hall of Fame chairman Doug Ireland announced Tuesday.
Allen, who has been north Louisiana's preeminent feature columnist for over 30 years, has been nationally recognized for his writing while working in Shreveport, New Orleans and Ruston. Author of three books, Allen has been a focal figure for the university communications department at his alma mater, Louisiana Tech, since 2008, and has been part of the Hall of Fame selection committee for two decades-plus.
Forman is the only person to serve as president of both the Louisiana Press Association and the LSWA. While winning hundreds of state writing and editing awards including news, sports and outdoors coverage from both organizations, the Pineville native and Louisiana Christian University alumnus has been a pivotal leader for the LSWA and for over 25 years has been on the Hall of Fame selection committee.
Allen and Forman will be among the 2022 Louisiana Sports Hall of Fame Induction Class to be spotlighted in the annual Induction Ceremony on Saturday evening, June 25, at the Natchitoches Events Center. The Induction Ceremony culminates the 2022 Induction Celebration beginning Thursday afternoon, June 23, with press conference at the Hall of Fame museum at 800 Front Street in Natchitoches.
A pair of six-time Pro Bowl NFL linemen, New Orleans Saints' offensive guard Jahri Evans and Buffalo Bills defensive tackle Kyle Williams, join the late Tony Robichaux, No. 1 on the wins list for state college baseball coaches, among a star-studded group of nine 2022 competitive ballot inductees.
The LSHOF Class of 2022 also includes two of the greatest women athletes in LSU history, three-time national champion gymnast Susan Jackson and two-time first-team All-America softball pitcher Britni Sneed Newman. Williams, who helped the Tigers' football team win the 2003 national championship, is joined by another of LSU's all-time great linemen, the late Eric Andolsek, and pro rodeo great Steve Duhon among the 2022 inductees.
Baton Rouge-Episcopal High School track and field/cross country coach Claney Duplechin enters the Hall next summer still active, with his teams capturing an astounding 64 LHSAA crowns in his career. Rounding out the Class of 2022 is the late Dr. Eddie Flynn, who as a Loyola-New Orleans student won the 1932 Olympic welterweight boxing gold medal for the USA, the last gold medal for an American boxer for 20 years.
The selection of Allen and Forman was announced Tuesday by LSWA president Raymond Partsch III.
"We could probably fill a wing of the Hall of Fame with the amount of hardware that Teddy and Garland have won in their storied careers, which is saying something. But for me, what stands out about this year's DSA honorees is how they are truly two of the most unselfish individuals that you will be blessed to encounter in our business," said Partsch.
"From Teddy stepping up to serve as master of ceremonies for the LHSOF Induction year after year to Garland's tireless work with both the LSWA and LPA, their sacrifices and behind-the-scenes efforts have been immensely valuable to both the LSWA and the LSHOF. We have been truly blessed to have both Teddy and Garland to be a part of our state's storied sports history and there is no better way to honor them than having them inducted into the Louisiana Sports Hall of Fame."
Shreveport native Jay Cicero, the longtime President and CEO of the Greater New Orleans Sports Foundation, has been selected as the 2022 winner of the Dave Dixon Louisiana Sports Leadership Award presented by the Louisiana Sports Hall of Fame.
The Dave Dixon Louisiana Sports Leadership Award has been presented annually by the Louisiana Sports Writers Association's 40-member Hall of Fame selection committee to an individual who has played a decisive role as a sports leader or administrator benefiting Louisiana and/or bringing credit to Louisiana on the national and international level.
With more than 35 years of sports management experience in Louisiana, including 24 years as president and CEO of the Greater New Orleans Sports Foundation, Cicero has led efforts in the Crescent City to not only bring dozens of major sporting events to New Orleans, but to serve as the head of the local organizing efforts for those events.
He will be inducted 30 years after the GNOSF made its first big national splash as the organizing entity for the 1992 U.S. Olympic Track and Field Trials hosted at Tad Gormley Stadium in New Orleans.
Cicero began his career in sports in group sales and marketing in his hometown for the Class AA Shreveport Captains in 1986. He first joined the Sports Foundation in 1990 as Director of Special Projects and Director of Sales for the 1992 Olympic Trials.
The 2022 Induction Celebration will kick off Thursday, June 23, with a press conference and reception. The three-day festivities include two receptions, a youth sports clinic, a bowling party, and a Friday night riverbank concert in Natchitoches. Tickets for the Saturday night, June 25 Induction Ceremony, along with congratulatory advertising and sponsorship opportunities, are available through the LaSportsHall.com website.