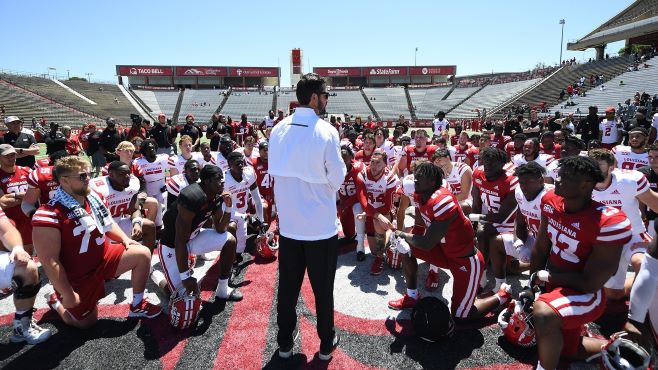 Right after the NFL Draft, teams will reach out to the remaining players about signing what is called an Undrafted Free Agent deal. Players will get the opportunity to impress the coaching staff enough to get a roster spot in the NFL.
This weekend, five players from the Louisiana Ragin Cajuns were given that opportunity, as Johnny Lumpkin, Chris Smith, and John Stephens Jr all signed UDFAs. Eric Garror and Bralen Trahan received minicamp invitations.
Lumpkin will get the opportunity to work with Bill Belichick and the New England Patriots, who bolstered their offense yesterday by drafting New Iberia native Kayshon Boutte in the sixth round out of LSU.
He's a big-bodied tight end that will be versatile as a pass catcher and a blocker for Mac Jones' offense.
Chris Smith, a starting running back for the Cajuns for the previous three seasons, signed a UDFA with the Seattle Seahawks following the draft. Smith will also be a versatile player as he can play running back and can be very valuable as a kick returner in the NFL. He finished the 2022 campaign with 628 yards on the ground.
John Stephens Jr will be returning to the Lone Star State after signing a deal with the Dallas Cowboys. Stephens is from Logansport but started his college career at TCU before transferring back into his home state with the Ragin Cajuns. In two years with Louisiana, Stephens had 451 yards and seven touchdowns.
Acadiana's own Bralen Trahan received a minicamp invite with the Chicago Bears after having a great career with the Cajuns. Trahan has long been regarded as one of the hardest workers in the program, so it should come as no surprise that he is getting this opportunity. He finished his Louisiana career with 213 tackles, 13 INTs, a pair of forced fumbles that he also recovered, and a blocked kick.
Garror is another member of the Louisiana secondary that has had a very strong career. He brings the ability to play cornerback as well as special teams. He tied the school record for career punt return touchdowns with three while getting nine career interceptions and 129 tackles.