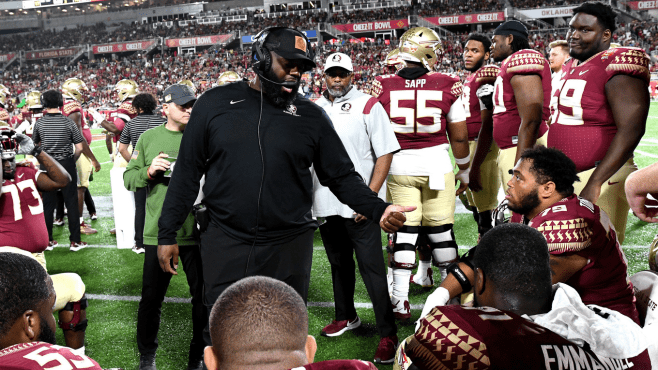 Rivalry games mean that every record or memory doesn't matter. Anything can happen on any given Saturday.
Louisiana will travel up to Monroe to take on the Warhawks of ULM in a game that some still call a rivalry. This is a series that the Cajuns have claimed the last four games over the Warhawks, but three of those were by seven or less points.
The Cajuns are coming off of their first loss since Sept 4, 2021 against Texas to open the season last year. Their 15-game, nation's longest active win streak was snapped at the hands of the Rice Owls 33-21 last Saturday.
The Warhawks, meanwhile, are returning home after traveling to Tuscaloosa and dropping a 63-7 game to the Crimson Tide.
Louisiana
"This is territory that we haven't been in for a long time."
Head coach Michael Desormeaux said that to open his weekly press conference with the media Monday, later saying this is a good thing.
Louisiana will look to get much better quarterback play from its two signal callers, Chandler Fields and Ben Wooldridge, who combined for 114 yards on 13-28 passing Saturday.
The Cajuns will also need a better performance from the guys up front, which is a big factor in the limited running game so far this season. It's an inexperienced group with four new starters, but Louisiana will need to get their running game going vs ULM.
Defensively, Louisiana has performed well, only allowing 20 points per game and 357 yards of total offense to their opponents on average this season. The Cajuns are also +8 in turnover margin so far in 2022.
ULM
The Warhawks are looking to get to .500 after playing both Texas and Alabama two of their first three weeks. Terry Bowden and ULM did beat Nicholls 35-7 in Week 2.
Chandler Rogers comes into this guy leading the Warhawk offense as a dual-threat weapon. He also has solid skill players in Malik Jackson, Jevin Frett, and Boogie Knight. Scoring wise, their numbers are skewed because of their opponents thus far, but ULM is averaging 17.3 points per game while allowing 41 points a game to their opposition.
Defensively, Monroe has a group of linebackers that can make plays with Tristan Driggers and Carl Glass Jr leading that charge. Also, Keydrain Calligan is a New Iberia product making an impact in the Warhawk secondary.
Overall Thoughts
This is always a close game, other than when the rain pours in or the COVID season. Three of the last five matchups have been decided by a touchdown or less, and most fans in this rivalry can remember Louisiana's 11-point comeback back in 2011. The Cajuns and Warhawks will make for a great matchup, with good offenses and a solid Cajuns defense.