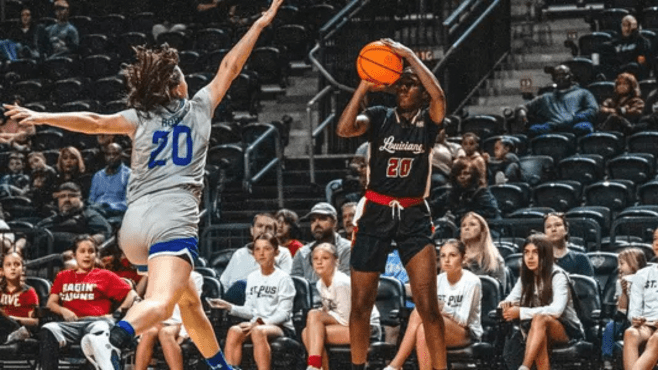 Some games mean more than others.
For the Louisiana Ragin Cajuns (2-3), this game is about getting on the right track and showing the league that you're still in it.
On the other side, Marshall (3-2) wants to get revenge for the 2021 New Orleans Bowl as well as show out in their first Sun Belt home game.
Add in the fact that both teams are coming off of a bye week and this will make for an incredible college football game.
Looking at Louisiana, they are hoping to snap a three-game losing skid, their first since 2018. Also, they'll have to do it without their starting quarterback Chandler fields, who's out with an injury. However, coach Michael Desormeaux has faith in his second quarterback, Ben Wooldridge.
"I think Ben's gonna rise to the occasion. He prepares really well, every week. He works tremendously hard to get ready for his team to go out there and give us a chance to win. And I know he's doing the same thing this week" Desormeaux said Monday. "I feel strongly about Ben's leadership skills and his preparation to this point for him to be ready to go out there and go start this football game and go play really good football for us."
Wooldridge is not a stranger to the field, as he has been the second QB in a two-QB system for the Cajuns so far in 2022. The Fresno State transfer has completed 65% of his passes for 440, three touchdowns, and one interception. He also has rushed for 66 yards this season. The highlight of Wooldridge's play has been his 17-play, 86-yard drive to tie the game against South Alabama last Saturday.
On the other side, the Thundering Herd have had a solid start to their Sun Belt tenure, taking down Notre Dame in South Bend during Week Two. However, back-to-back losses to Bowling Green and Troy brought them back to earth before beating FCS Gardner-Webb to be 3-2 heading into this first Sun Belt game in Huntington, West Virginia.
Coach Charles Huff said that his team is excited about the opportunity to play on national television at home against the defending Sun Belt champions. When asked about what his opponent does well, Huff was blunt in his response.
"Everything. You don't win a championship by mistake, and I don't care what sports you're playing. There's a thing called championship DNA that you have in your program and your organization, and they have it. You know, on defense, they're extremely physical, they're fast, they're big up front, they do a good job on the back end, and their linebackers are instinctive"
Huff continued praising the Cajuns when speaking of their offense.
"Offensively, they do a really good job running the football. They've got some receivers that can get open, and they've got a quarterback who understands the system."
The Herd have been excellent running the ball this season, with star sophomore Rasheen Ali missing time with an injury. However, Khalan Laborn has stepped up to provide a spark to the Marshall offense with 731 yards so far this season. Quarterback Henry Colombi and receiver Corey Gammage have also had solid starts to 2022, connecting for 196 yards.
Defensively is where Marshall has shined. Owen Porter has three sacks so far on the season, and Abraham Beauplan and Eli Neal have played excellently in the second level. Then, Steven Gilmore and Micah Abraham each have three interceptions in 2022, with McNeese transfer Andre Sam making big plays from the safety spot. If Louisiana wants to win this contest, the Cajuns will have to find holes in a well-knit defense.
Injury-wise, both teams are looking to get their starting running backs to return in time for this game, as Rasheen Ali has been out for Marshall most of the season and Chris Smith hurt his hamstring against South Alabama for the Cajuns.
This matchup will take place Wednesday in a Sun Belt primetime matchup, with the kickoff scheduled for 6:30 p.m. on national television from Joan C. Edwards Stadium in Huntington, West Virginia.