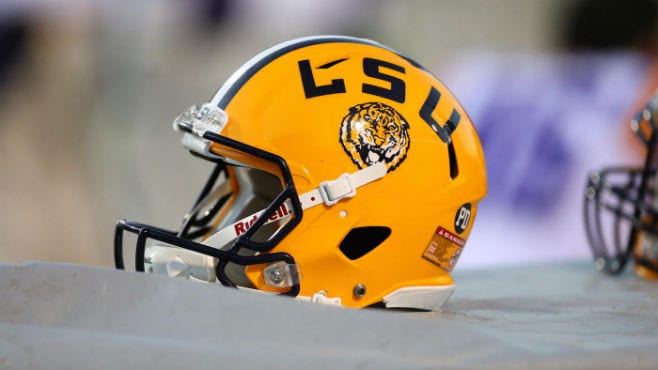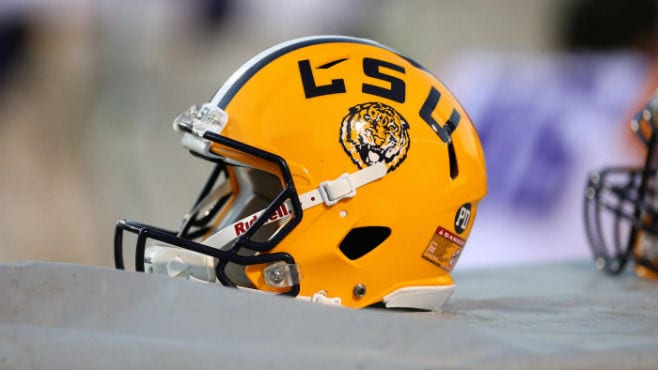 It's officially game week for the LSU Tigers and while the team's focus has started to shift towards the Georgia Southern Eagles and their vaunted triple option, the coaching staff has been working on this all the way back in the spring according to head coach Ed Orgeron.
"I would say we started breaking them down last February, started looking at them in the spring." Orgeron said on Monday afternoon, "Analysts did a great job in recruiting, the recruiting period. We had extensive meetings on them, walk-throughs on them. Been preparing for them since the spring."
When you look at the Eagles 2018 season, the triple option proved to be very effective with a 10-3 record to show for it, but one of the big things that LSU has keyed in on is their impressive turnover ratio.
"We are playing a very good Georgia Southern team, a tough, hard-nosed football team that won 10 games last year," Orgeron said, "Plus 22 in the turnover margin. That's elite, number one in the country. That's a phenomenal stat. This is a well-coached football team."
Strictly Spread Offense
With Joe Brady getting hired as the passing game coordinator during the offseason, the talk since the spring has been about a new-look offense. It's something that many Tiger fans have heard for years and eventually, it's a believe it when you see it type of thing. However, Orgeron doubled down on his statement of the offense saying that it is strictly a spread offense.
"I do believe we have several different tempos." Orgeron said, "We are strictly spread, first time LSU has been strictly spread. We have the talent to be a spread offenNese. We can go five receivers at any time, four receivers. We're mainly going to be out of 11 personnel. One tight end, three receivers, one back. Coach Ensminger has a tremendous plan."
While Steve Ensminger will have the final say in what plays are run, Brady is going to be suggesting things to the Tigers offensive coordinator and that will loom large with how this team looks throughout the 2019 season.
Running Back By Committee
Sticking with the offense, LSU's bread and butter for years has been the run game and this might be the most stacked running back room that they have had. Highlighted by star freshman John Emery, who LSU's head honcho raved about on Monday, the depth chart hasn't been this tough to crack since Leonard Fournette and Derrius Guice were on the same roster. However, Orgeron mentioned that it will be a running back by committee situation with Clyde Edwards-Helaire leading the way.
"Clyde Edwards-Helaire is our starter. Lanard Fournette is going to go in there. Chris Curry is going to play, a lot of young guys. It will be running back by committee. As you know, when you are playing, we need all those guys. We tell them all to stay healthy and all to stay positive."
Netherly Headed to Transfer Portal
Not long after LSU announced their depth chart for the 2019 season, one player announced their intentions to transfer in Mannie Netherly.
Officially in the transfer portal 🙏🏽

— Mannie Netherly (@yovng_netherly) August 26, 2019
The Crosby, Texas native had previously entered the transfer portal prior to spring practice and a lot of it has to do with the fact that the secondary is filled with a lot of solid guys including Cordale Flott, who has caught the eyes of the coaching staff during fall camp.
We're really really impressed with Cordale Flott. I think Cordale Flott has separated himself that if he were to have to start for us right now, we'd feel comfortable putting him in," Orgeron said. "Jay Ward is a good tackler. He's very strong. Raydarious has had a couple of injuries, so he's not ready to go right now. We really like those young guys. We think it's an excellent class. Christian is going to be ready to go, Derrick is going to be ready to go. We feel strong at corner."
Netherly played in 11 games last season, notching three tackles against Southeastern Louisiana, Rice and in the Fiesta Bowl against UCF.