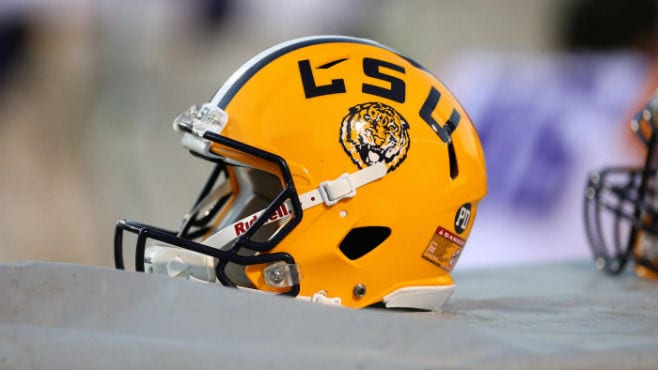 LSU has issued self-imposed penalties for multiple rules violations, according to Sports Illustrated.
The school has reduced the amount of football scholarships by eight. They are also decreasing "recruiting visits, evaluations and communication."
The football program will lose four scholarships in each of the next two years.
Details behind the decrease in recruiting visits and communication were released as well. The penalties include "the elimination of 12.5% of official and unofficial visits, a 21-day reduction of the normal 168 days of allowable off-campus contacts and a six-week ban in communication with prospects."
The penalties resulted from booster John Paul Funes, who paid the father of a former LSU offensive lineman Vadal Alexander $180,000 over a five-year period. The money was stolen from a hospital foundation for children.
In addition to those penalties, the school has banned former LSU Tiger and now NFL receiver Odell Beckham Jr. from its facilities for two years.
Beckham Jr. was handing out $100 bills to LSU players following their national championship win over Clemson in January. The total amount of money handed out was $2,000, according to Sports Illustrated.
The following is a statement from LSU senior associate athletic director Robert Munson:
"LSU has worked proactively and in cooperation with the NCAA to identify and self-report any violations that occurred within our football program. We believe these self-imposed penalties are appropriate and we will continue to coordinate and cooperate with the NCAA on this matter."
According to the report, LSU is hoping to avoid a postseason ban from the NCAA.