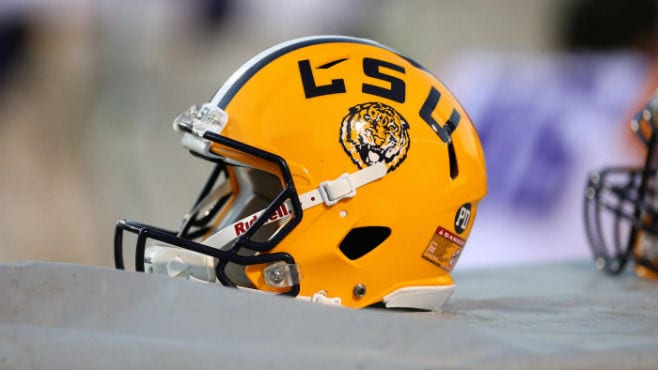 After a 45-38 dogfight against the Texas Longhorns, the fourth-ranked LSU Tigers are looking forward to getting back to Tiger Stadium as they host Northwestern State. No one is looking forward to it more though than Ed Orgeron.
"Looking forward to Northwestern, a place where I got my degree, and I'm very, very appreciative of that." Orgeron said on Monday during his press conference, "The best thing that ever happened at Northwestern was I got my degree and I networked. I networked, and I met some people, and I got to get into college coaching. For that, I'm very, very appreciative. Not going to be appreciative about it Saturday night, but I'm appreciative of it."
The Tigers head coach was also appreciative of the team's performance on Saturday.
"Can't compliment our coaching staff enough for the game plan, but I want to give the credit to the players." Orgeron said, "They went out and got it done in a hostile environment. Give credit to Texas. They're a very, very good football team. They fought the whole way. It was a 60-minute game, which we knew it was going to be.
"Some of the things that we're really proud of, 16 explosive plays. One out of every four offensive plays was an explosive play, outstanding. Outstanding offense, three receivers over 100 yards. The play of Joe Burrow was phenomenal. That third and 17 play, Clyde made a great block on a blitzing linebacker, Joe squeezed up in there, threw off of one foot. Justin made a tremendous catch and yards after the catch. What a great play. I'm always going to remember that play. What an outstanding play for the Tiger. We needed it. At that point in the game, we needed the offense to score one more touchdown, and we did. We went for two, and they almost got the onside kick. It was a very close call."
Additions to the Trophy Room
Fourth-ranked LSU has gotten a lot of love from the media with not only Joe Burrow and Cade York being named SEC Offensive and Special Teams Player of the Week respectively, but the program was also named the National Team of the Week by the FWAA. It's the fourth time LSU has been named the National Team of the Week by the FWAA and the first time since knocking off then-third ranked Ole Miss in 2014.
Ed Orgeron also added to the trophy room on Monday when he was named Dodd Trophy Coach of the Week after leading the Tigers to their first-ever nonconference victory over an AP Top 10 team on the road.
"Coach Orgeron led his Tigers to victory in what appears to be one of the biggest out-of-conference showdowns of the season," Peach Bowl president Gary Stokan said in a news release. "He's done a phenomenal job leading his program both on and off the field in Baton Rouge, and appears to have LSU primed to be a College Football Playoff contender this season."
Sweltering Conditions in Locker Room
That Texas heat is something else. At certain points in Saturday night's marquee matchup, the temperature on the field was 98 degrees. However, things weren't much better when the Tigers headed to the locker room at the half. Rumors came out after the game that there was no air conditioning inside of LSU's locker room which caused some dehydration issues and may have caused some of the issues defensively in the second half.
"First of all, I called Louisiana Tech, and they told us about it. So we did some things in the dressing room that were better." Ed Orgeron said during his press conference on Monday, "It wasn't great, but it was better. At least we had air in there. They didn't have air. We had some blowers in there. I don't think that caused as much as going out there and having to play 93 plays on defense. I think that had a lot to do with it.
"Although it was hot, I thought — I think the humidity was like 23 percent. It wasn't like Louisiana. But our guys did cramp up in the second half. We talked about it as a staff that we need to get some IVs, more IVs at halftime. Didn't seem like nobody needed one at that time, but to prevent that, I think that more guys will get IVs at halftime, obviously with the doctor's approval."
This definitely left the Tigers with a bad taste in their mouth and there might be some saltiness between the two programs, especially with LSU's band being posted up in the upper deck during the ballgame. Texas AD Chris Del Conte responded to the allegations on Monday night saying that the lack of air conditioning was the first they've heard of any issues.
Official statement from @_delconte on the visitor locker room. pic.twitter.com/zSdZcfSfSO

— Texas Longhorns (@TexasLonghorns) September 9, 2019
LSU Nearing Milestone
One thing that even Ed Orgeron didn't realize was that the Tigers are one win away from their 800th win in program history. 
"Any time you have 800 victories, it means that you are a premier team, you're an elite football team, you're an elite program." Orgeron said, "It reminds me of all the hard work, all the great players that have played here. I've watched LSU all my life, all the great coaches that have been here. I tell the guys before the game, man, we've got to represent. We've got to represent all the guys that wore the purple and gold before us."
With Northwestern State on the docket for this weekend, it feels like an inevitability that LSU will join 15 other football programs in the 800-win club.
Mum's the Word
Friday saw rumors about Ed Ingram making his return to the program after being arrested on two counts of aggravated sexual assault in Dallas County, Texas, on August 2nd, 2018. 
"With Ed Ingram, we are hearing things. Nothing's been official. We're hearing things are going to be positive." Orgeron said, "We're hearing we may hear something this week, but I don't know. That thing is going on for such a long time, I don't know. Until we get the final say-so, we can't confirm anything."
As it pertains to other defensive players, Orgeron gave an update on some of them saying that Glen Logan and Rashard Lawernce wouldn't be playing on Saturday while K'Lavon Chaisson was listed as questionable and in a walking boot.