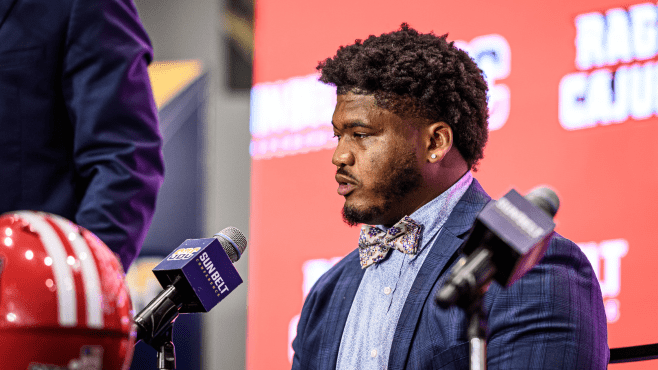 Returning All-Sun Belt players Julian Brock and Carson Roccaforte were named to the Preseason All-Sun Belt team on Wednesday in preparation of the 2023 season.
Louisiana, finishing 37-23 in 2022 and capturing the Sun Belt championship, finished fourth in the preseason poll.
Brock emerged as one of the top catchers in the league last season after hitting .303 with seven long balls and 35 RBIs. The junior from Fulshear, Texas hit .324 in conference play and threw out 40% of baserunners stealing during the regular season.
Brock started 47 consecutive games behind the plate and was fourth on the team in doubles, (12) and third overall in home runs.
Roccaforte was named as the first baseman on the 14-man preseason list after earning first-team honors last season. The triple-crown winner led the team in average (.374), home runs (16), and RBIs (68) and led the team in 12 categories last season.
The Port Neches, Texas native finished as the fourth-leading hitter in the SBC after averaging .392 during the regular season and .420 during conference play. He finished second in the conference in hits (82), RBIs, and stolen bases (25).
Louisiana will officially open their season next Friday when they travel to Houston to take on Rice for a three-game series. The Cajuns will play 33 home games in 2023, with the first coming against BYU on February 22 as part of a four-game series.