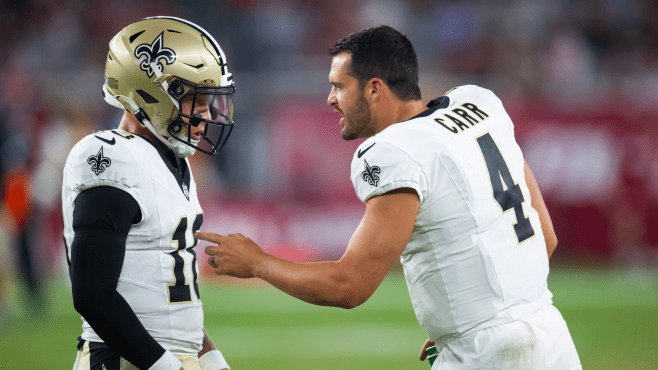 Louisiana kicked off the 2022 season by extending their nation's longest active win streak to 14 games, as the Ragin Cajuns (1-0) took down the Southeastern Louisiana Lions (0-1) 24-7. Louisiana's defense forced two turnovers and Chandler Fields and Johnny Lumpkin connected on two touchdown passes on the night.
HOW IT HAPPENED:
Scoring opened in this game at the 9:08 mark of the first quarter, when Chandler Fields found a streaking Johnny Lumpkin for a 28-yard touchdown to make it 7-0 Cajuns early.
Eight minutes later, LSU transfer Preston Stafford would boot a 26 yard field goal through the uprights to make it 10-0 late in the opening quarter.
Early in the second, Eric Garror fielded a punt at the 17 and took it 83 yards to paydirt and pushed the Louisiana lead to 17-0 with 12:41 remaining in the half.
Ben Wooldridge came in at QB for the third offensive possession for Louisiana, but his drive stalled on a turnover on downs late in the first half.
Southeastern would jump on the scoreboard at the 4:04 mark of the third, when Carlos Washington Jr scampered in from four yards out to make it 17-7.
A touchdown was scored by Southeastern in the 4th, but a personal foul negated the play and the Lions ended up punting on the drive.
Louisiana added a late touchdown as Chandler Fields found Johnny Lumpkin for the second time, this time in the back of the end zone to make it 24-7 with less than two minutes to go.
BIG NUMBER: +2
Louisiana went +2 in the turnover category Saturday night, which helped lead them to a 24-7 victory over the Lions.
PLAYER OF THE GAME: Eric Garror/Johnny Lumpkin
The senior from Mobile shined at Cajun Field tonight, returning a punt 83 yards for a score and intercepting Southeastern in the fourth. Lumpkin had five catches for 72 yards and two touchdowns to lead the Cajuns offensively.
UP NEXT: Louisiana (1-0) will return to Cajun Field next week to host Eastern Michigan. Kickoff is scheduled for 6:00 p.m.