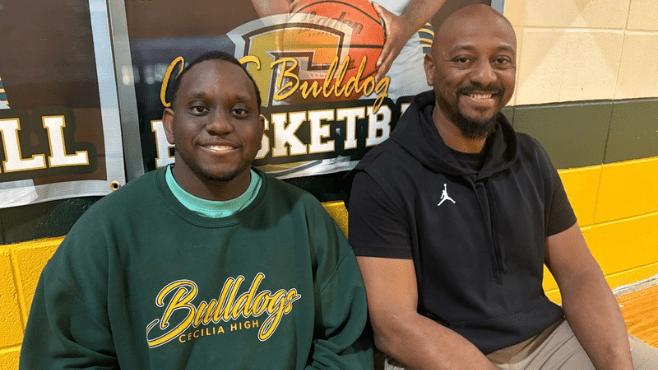 Louisiana travelled to Huntington, West Virginia for a midweek, Sun Belt contest with the Marshall Thundering Herd. The Cajuns had to battle a good team and the elements, but Ben Wooldridge and the Louisiana defense both stepped up to lead to a 23-13 victory over Marshall.
HOW IT HAPPENED:
The Cajuns' offense strung together some nice drives and made some solid plays down the field, setting up a 42-yard field goal for Kenneth Almendares at the 7:02 mark of the opening frame to give Louisiana the early 3-0 lead.
Early in the second quarter, Marshall's Rece Verhoff hooked a 45-yard field goal to give Louisiana good field position, but the Cajuns couldn't get points out of it.
Marshall took the lead after 10 plays and 87 yards resulted in a touchdown run from Khalan Laborn to make it 7-3 Herd with 4:09 left in the first half.
After a long weather delay at halftime, the teams took the field for the second half. The Cajuns got a big interception from Bralen Trahan and Ben Wooldridge led the offense down the field before finding Dontae Fleming for a six-yard touchdown to make it 10-7 Cajuns early in the second half.
Kenneth Almendares once again delivered with a 33-yard field goal to increase the Cajun lead to 13-7 at the 4:44 mark of the third quarter. Louisiana's offense was able to move the ball down the field well against the Marshall defense to set up points.
Almendares came up big again, hitting a 52-yar field goal as the third quarter ended to make it 16-7 Louisiana with one quarter to go. Later in the quarter, Wooldridge hit Michael Jefferson over the middle and he broke a few tackles before taking it 32 yards to the house to increase the Cajun lead to 16.
Marshall cut into the lead with a strong offensive possession, capped off with a Laborn touchdown run, but a field two-point try kept it a 10 point game.
BIG NUMBER: 5
Louisiana's defense was able to get a consistent pass rush in tonight's game, sacking Marshall quarterbacks five times.
PLAYER OF THE GAME: Ben Wooldridge
Wooldridge was incredible in his first career start, going 17-29 for 230 yards and two touchdowns. He also added 45 yards on the ground.
UP NEXT: Louisiana will return to Cajun Field at Our Lady of Lourdes Stadium as they host Arkansas State in a 4:00 p.m. contest.