BATON ROUGE — With a 66-42 win over Michigan on Sunday evening inside the Peter Maravich Assembly Center, the LSU women's basketball team advanced to the NCAA Women's Tournament Sweet 16 for the first time since 2014.
HOW IT HAPPENED:
LSU' had a scary moment in the opening minute of the contest when All-American Angel Reese had to come out of the game due to being hit in the mouth. Reese's departure proved to be short lived as she returned back into the game — with a mouth guard — and scored six points and pulled down 10 rebounds in the opening quarter.
At the end of the first, LSU held a 12-7 lead and the seven points were the lowest in any quarter for Michigan this season.
After shooting 23.8 percent from the field in the first quarter, LSU began to heat up in the second quarter. Jasmine Carson gave the Tigers a big spark as she drained a trio of three-pointers in the second.
LSU's five-point lead increased up to 15 as the Tigers lead the Wolverines 30-15. At the break, Reese had already secured her 30th double-double of the season as she had 13 points and 14 rebounds.
Michigan started off the third quarter on a 7-0 run as LSU couldn't get their shots to fall. In fact, the Tigers didn't score a field goal until Reese made a layup with 5:39 left in the period.
Reese was fouled on that play but missed her free throws but LSU got the rebound as Kateri Poole drained a three-pointer which sparked the Tigers.
LSU maintained its double-digit lead the rest of the way as the Tigers punched their ticket to the Sweet 16 for the first time since 2014.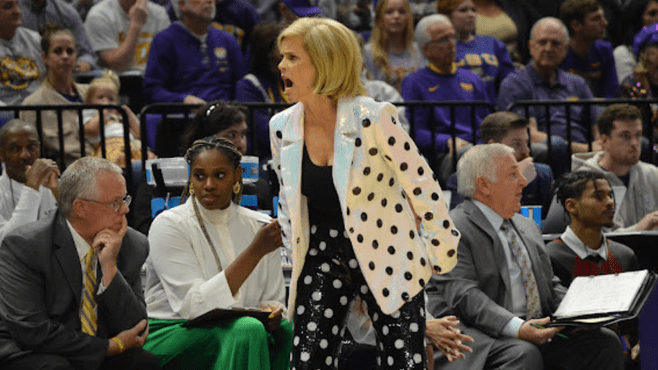 BIG NUMBER: 46
LSU dominated the glass in Sunday's victory as the Tigers pulled down 46 rebounds compared to only 26 for the Wolverines.
BIG NUMBER II: 16
LSU's defense never let Michigan get going as the Tigers forced 16 turnovers in Sunday's contest.
PLAYER OF THE GAME: ANGEL REESE & LADAZHIA WILLIAMS
Despite making 8-of-23 from the field, Reese recorded her 30th double-double as she led the Tigers with 25 points and 24 rebounds. Williams meanwhile chipped in a double-double of her own as she got 10 points and 10 rebounds in the victory.
UP NEXT: LSU (30-2) will take on Utah in the Sweet 16 next week. Date and time TBD.