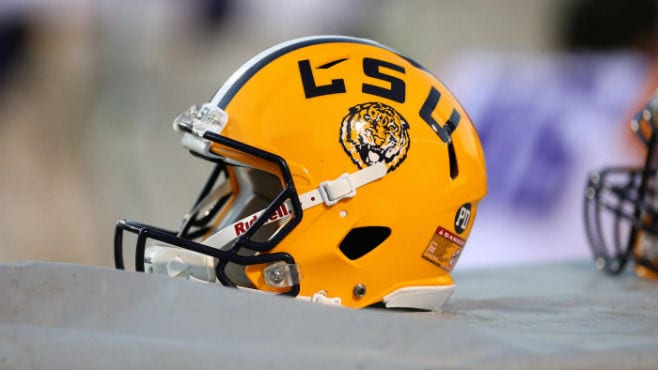 LSU's defense was once again gashed by an unranked opponent — and once again the defending national champions were defeated.
Missouri racked up 586 total yards, including 406 yards through the air, in a 45-41 victory over No. 17 LSU on Saturday in Columbia, Missouri. The defeat drops LSU to 1-2 on the season and it is the first time since 1994 that the Tigers have started the season 1-2.
How It Happened:
Missouri quarterback Connor Bazelak threw a 58-yard touchdown to Tauskie Dove on the Tigers' first possession of the game. LSU responded with a 10-play, 75-yard touchdown drive which ended with a six-yard touchdown pass from Myles Brennan to Terrace Marshall Jr.
After a turnover on downs by Missouri, LSU's offense needed only six plays to score as Brennan found Marshall for a two-yard touchdown. Missouri responded with a touchdown drive as running back Tyler Badie scored on a 29-yard touchdown run.
LSU's special teams recovered a Missouri fumble on a punt return. Brennan then found freshman tight end Arik Gilbert for a 25-yard touchdown. After yet another fumble by Missouri, LSU extended its lead with a 42-yard field goal by Cade York.
Missouri tied the game by outscoring LSU 10-0 to end the half.
LSU punted on its first possession of the second half but then scored touchdowns on its next two possessions. Tyrion Davis-Price scored on a one-yard touchdown run and Breenan hooked up with Marshall for a 75-yard touchdown.
LSU's defense though struggled to stop Missouri's offense as Bazelak led Missouri to a pair of touchdown drives (a 41-yard TD pass to Micah Wilson and a 21-yard TD pass to Tyler Badie). Those Missouri scoring drives tied the game 38-38.
LSU reclaimed the lead with a 51-yard field goal by York but it wasn't enough.
Late in the fourth quarter, Missouri needed only four plays to go 77 yards as Bazelak threw a five-yard touchdown to Niko Hea.
LSU responded by marching all the way down to the one-yard line. After back-to-back runs were stopped at the line of scrimmage, Brennan's third-down and fourth-down passes to Marshall were broken up.
Big Number: 96
With the 45 points given up in Saturday's loss to Missouri, LSU has now given up 96 points in the first three games of the 2020 season. That is now the most in program history. The previous record was 90 points to start the 1991 season.
Big Number II: 0
The LSU offense put up 475 yards but despite those numbers, the Tigers struggled to extend drives. LSU was 0-for-10 on third-down conversions.
Players of the Game: Terrace Marshall Jr. & Myles Brennan
LSU's star wide receiver had a monster game as he caught 11 passes for 235 yards and three touchdowns. Marshall's quarterback meanwhile completed 29-of-48 passes for 430 yards with four touchdowns and no interceptions.
Next Up: LSU (1-2, 1-2 SEC) travels to Gainesville to take on Florida (2-1, 2-1 SEC) on Saturday. Kickoff is set for 2:30 p.m.